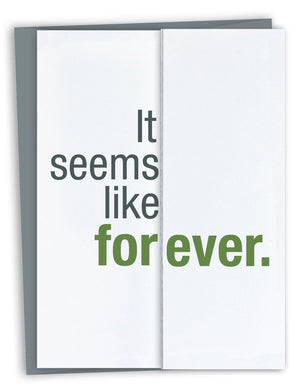 Seems Like Forever / Anniversary Greeting Card
We suggest giving this card to you partner every month for the next year & every time they open a new one act like you have no idea that you have given them this card before.
Folded: It seems like forever.
Unfolded: It seems like just yesterday I left single life for the best relationship ever.
Unique fold-out card printed on heavy card stock

Matching envelope

A6 size: Folded: 4.5 x 6.25" 
Unfolded: 13.5 x 6.25"