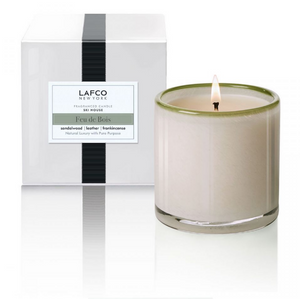 LAFCO SKI HOUSE CANDLE
Feu de Bois 
SIGNATURE 15.5OZ CANDLE

sandalwood | leather accord | frankincense

Curl up to the mesmerizing light of the flames and rhythmic crackling of the blaze create a warm ambience. Fresh pine falls on curls of sandalwood and rare Virginia cedarwood. Smoky leather accords, frankincense, and nuances of vanilla are tranquil and comforting.

Product Details:

Vessel
A beautifully designed handblown glass vessel crafted to enhance the burning experience.

 The vessel can be reused as a part of your home decor.
Key Ingredients in Formula:
Soy Wax
Essential Oil Based Fragrances
100% Cotton Wick
Touch of Paraffin Wax (just enough to enhance the fragrance delivery)

Fragrance Life:
Up to a 90 hour burn time.

Dimensions:
4" D x 4" H

How to Use:

Optimal Experience
Light the candle on a heat-resistant surface within sight and away from drafts, children, and pets.
Trim the wick to 1/4" before every burn or when the wick "mushrooms" to maintain a clean burn. No trim is necessary for the first burn.
To prevent tunneling and to ensure an even burn, allow the melt pool to reach the walls of the vessel every use.
Keep the wick centered at all times so the candle burns evenly.
The optimal burn time is 2 to 4 hours.
Keep the wax pool free of matches, wick trimming and other debris.
After Each Use
To extinguish your candle without smoke, use a candle snuffer to gently push the wick into the melt pool. Once extinguished, carefully lift the wick up and re-center it. You can also gently blow out the flame.
Always let the candle cool for 12 hours before relighting.
At the End of the Candle Life
If the candle does not self-extinguish as it is designed to do, discontinue use when 1/2" of wax remains at the bottom of the vessel. Once your candle is finished, re-purpose the hand-blown keepsake vessel.